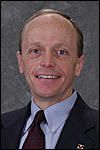 The MP3s are finally available online.
For Reformation Weekend we went to FBC in St. Francis. This year's speaker was Dr. David Sills of Southern Baptist Seminary. The theme was
Calvinism and Evangelism
.
Dr. Sills was clearly passionate about evangelism. His five sermons on the subject are worth your time. What was interesting was that he started with The Calling of Abraham.
Last year Dr. Tom Nettles, Professor of Historical Theology, also from SBTS, spoke on the
Glory of God in the Face of Christ
.
In 2006, Dr. Roy Hargrave spoke on
Calvinism
. He literally hit the ground running.
In 2005 Dr. Phil Newton spoke on the
Church
. This was some serious study on a subject many just assume is not necessary.
I have greatly appreciated the fact that four godly and well known men would take the time to come out to North-Western Kansas and speak to a small gathering. Go to the site and download them to your MP3 player/I-Pod. Enjoy!