Two quick notes. First, I thought this brief discussion on preaching by Pastors Cory and Chris I think is a helpful reminder on the importance of God's Revelation and how it is to be handled.
Also, for Christmas I received a book, Covenant Theology: A Reformed and Baptistic Perspective on God's Covenants, by Greg Nichols. As time allows, I am certain I will interact with the book and offer some comments. This book has sold like hot cakes. I think it is for the simple reason as stated by one endorsement.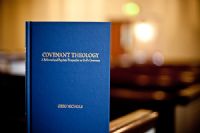 I am not aware of anything in print that treats this topic as clearly and comprehensively, and from a distinctly Baptistic perspective. -- Pastor Jim Domm
Personally, the only book that I have that treats this topic is from the same perspective is by Nehemiah Coxe, a particular Baptist of the 17th century. This book I think fills a giant void in the modern life of Baptists, who desire to be consistent in their theology.